DEPARTMENT OF MARINE & WILDLIFE RESOURCES,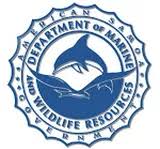 AMERICAN SAMOA GOVERNMENT
1. POSITION TITLE NAME: Coral Reef Ecologist
2. GENERAL DESCRIPTION OF POSITION TITLE & WHERE POSITION IS LOCATED:
The American Samoa Coral Reef Advisory Group is hiring a Coral Reef Ecologist who will provide the scientific and other technical support for the American Samoa Coral Reef Monitoring Program and other programs that conduct research on the status of coral reefs and the distribution of coral reef fishes in the territory.
3. DUTIES & RESPONSIBILITIES:
Conduct and develop local staff capacity in coral monitoring surveys at established sites, using SCUBA and snorkel techniques;
Develop training materials and train local staff in established coral reef monitoring protocols used by the Department of Marine and Wildlife Resources in coordination with the Chief Fisheries Biologist;
Implement and manage the SCUBA dive and boating safety program;
Develop and implement protocols to respond to disturbances within coral reef ecosystems (e.g. ship groundings, coral bleaching and crown of thorn starfish outbreaks);
Manage monitoring data and conduct statistical data analysis techniques to inform and provide recommendations to local stakeholders on spatial and temporal trends of coral reef ecology in the territory. Perform logistic coordination for fieldwork and follow ups on project administration-related activities;
Provide technical expertise to other resource management agencies and the public as needed about the territory?s marine resources;
Chair the Climate Change Local Action Strategy Group and participate in relevant management activities through the Coral Reef Advisory Group, to help support territorial efforts for science-based management;
Draft and publish department biological reports and submit performance reports; and scientific manuscripts
4. ADDITIONAL REQUIREMENTS:
Experience working on coral ecology research such as coral disease and coral demography,
Have experience working with a diverse group of stakeholders including (and especially local) communities, government agency staff, researchers, educators, and enforcement personnel;
Be culturally sensitive and have experience living and working in another culture, preferably a Pacific island community;
Have strong inter-personal, leadership and organizational skills;
Must be highly motivated and passionate about coral reef conservation,
Must be independent worker but also a team player;
5. KNOWLEDGE, SKILLS & ABILITIES:
Be a highly-experienced SCUBA diver with at least 300 dives;
Have high coral species identification skill, with identification of algae and coral reef invertebrates an advantage;
Have been involved in basic or applied coral research and/or coral reef management for at least 3 years and preferably have worked in the Pacific (Work experience in American Samoa is a definite advantage.);
Have experience in coral monitoring sampling design and implementation;
Have significant experience in univariate and multivariate statistics, with coral reef benthic data an advantage;
Experience in implementing and managing a SCUBA dive and boating safety program,
Experience in developing and implementing protocols to respond to disturbances within coral reef ecosystems ( e.g. ship groundings and coral bleaching events)
Have excellent oral and written communication skills in English, including experience with writing and successfully acquiring grants;
Have significant experience in writing technical reports and preparing scientific manuscripts and presenting these reports in regional and international conferences;
Have experience in managing grants, budget and project staff;
6. MINIMUM QUALIFICATIONS: Preferable a PhD, however the minimum requirement is a Master's Degree in biology, marine biology, fisheries or related field, with experience.
7. TO APPLY:
Applicants must send a cover letter and a resume and their contact details (phone numbers and email addresses).
Applicants should email these documents to the DMWR HR Manager, Caroline Tafeamaalii c.tafeamaalii@gmail.com  with email subject: "Coral Reef Ecologist Position."
Only short-listed applicants will be contacted for interviews.
Applications to be submitted before the closing date on *Monday November 17th, 2017*.
Attachments when submitting application must include the following:
1. Cover Letter
2. CV / Resume
3. References
4. Copy of degrees / official copy of transcripts
Please email alicelawrence.mpa@gmail.com with any questions about the position.
—
Alice Lawrence
Coral Reef Monitoring Fish Ecologist
Department of Marine and Wildlife Resources
PO Box 3730 Pago Pago,
American Samoa 96799
Tel No: (684) 633-0382
Cell No: (684) 256-7450 / 733-4265
Fax No: (684) 633-5944